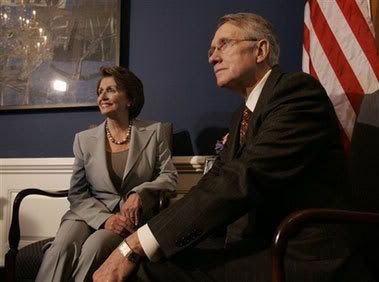 Unless campaigns and candidates fire up their lawyers, the results of the 2006 midterm elections are in. Click 'read more' to see a race-by race breakdown for Greater Long Beach.
Nationally, Democrats swept the House of Representatives and slugged out a one-vote majority in the Senate. Get used to the two faces at right: Speaker of the House Nancy Pelosi and Senate Majority Leader Harry Reid.
In California, the only Democrats to lose state-wide offices were gubernatorial hopful Phil Angelides and wanna-be Insurance Commissioner Cruz Bustamante. Incidentally, Angelides made Bill Gates look like a hipster and left Democratic activists playing Waiting for Godot while Bustamante came across as an ethically-challenged opportunist looking for a place to sit out Arnold's second term before another run for the Governor's office (which he probably was.)
As the dust settles, it seems that Californians used the state election as a vote of confidence in Sacramento by passing every Proposition requested by Sacramento (as compared to 2004). Only 1/4 of the Propositions put on the ballot by signature collection were passed, and only for the least provocative issues (being harder on sex offenders and investing in clean water infrastructure).
Nationally, Americans used federal elections as a vote of no-confidence in DC. Secretary of Defense Donald Rumsfeld resigned today, the first of the Executive's midterm casualties. While Speaker Pelosi has promised to focus on governing and not seeking revenge (e.g. by seeking impeachment), most cognoscenti expect the resumption of Congressional oversight to include a blizzard of subpoenas. CIA officers have reportedly been buying legal defense insurance in preparation for Hill hearings on torture and extraordinary rendition.
P.S. For a near-comprehensive run down of election night reactions, I highly recommend the OC Weekly Blotter. They don't pay Moxley enough to take that kind of abuse.
P.P.S. For evidence that OC's Republican machine has corrupted public institutions and threatens American democracy, see The Liberal OC's stories and photos of lines, bunk equipment and voters refused. Unacceptable?
As voters trickled out after casting their ballots I was surprised to learn that they had waited an average of two and a half hours to vote. One voter told me that she had come down to vote four times over the course of the day.
Wow, these are really some dedicated people who know the value of their vote. The majority of the voters waiting in line were Hispanic many speaking primarily Spanish.
Translation: "Burn! Burn! Burn!" Americans are too damn civilized sometimes.
P.P.P.S. You did already read Long Beach Report, right? No? Go. Now.